The rise of online sales has transformed the role of marketing within B2B companies – good marketing is now vital to business success. Customers have high expectations of the quality of imagery and product descriptions – and companies need to ensure the brand messaging and experience is consistent across every single channel, from social media to Amazon. 
With so many marketing tools, so much data, including a raft of statistics from the online channels, and the ability to measure sales conversion value. If companies are to optimise the digital brand strategy with effective, targeted content, it is vital to integrate brand, content and technology, explains Intellisell's Richard Nash.
Marketing at the heart of the business
Online sales strategies have transformed the reach of B2B businesses, providing companies with fast access to new markets and new customers. According to Business 2 Community, 61% of the B2B market has gone online, with B2B buyers making on average 12 online searches before making a buying decision.
Furthermore, the entire online experience – from paying invoices to engaging with new products and campaigns – you need to consider not only the way integration and automation can transform customer acquisition and sales but also plan the evolution towards a full B2B eCommerce platform. The downside is that as B2B companies globally have extended their market reach, competition has ramped up and it is now harder than ever to stand out from the crowd.
Marketing has become not only more important to business success but also far more complex. From email campaigns to social media, educational videos to online events and the creation of high-quality content, marketers have extended their skill sets.
According to Weirdert Group, over three quarters (76%) of B2B buyers have increased expectations around personalised and tailored solutions to their specific needs.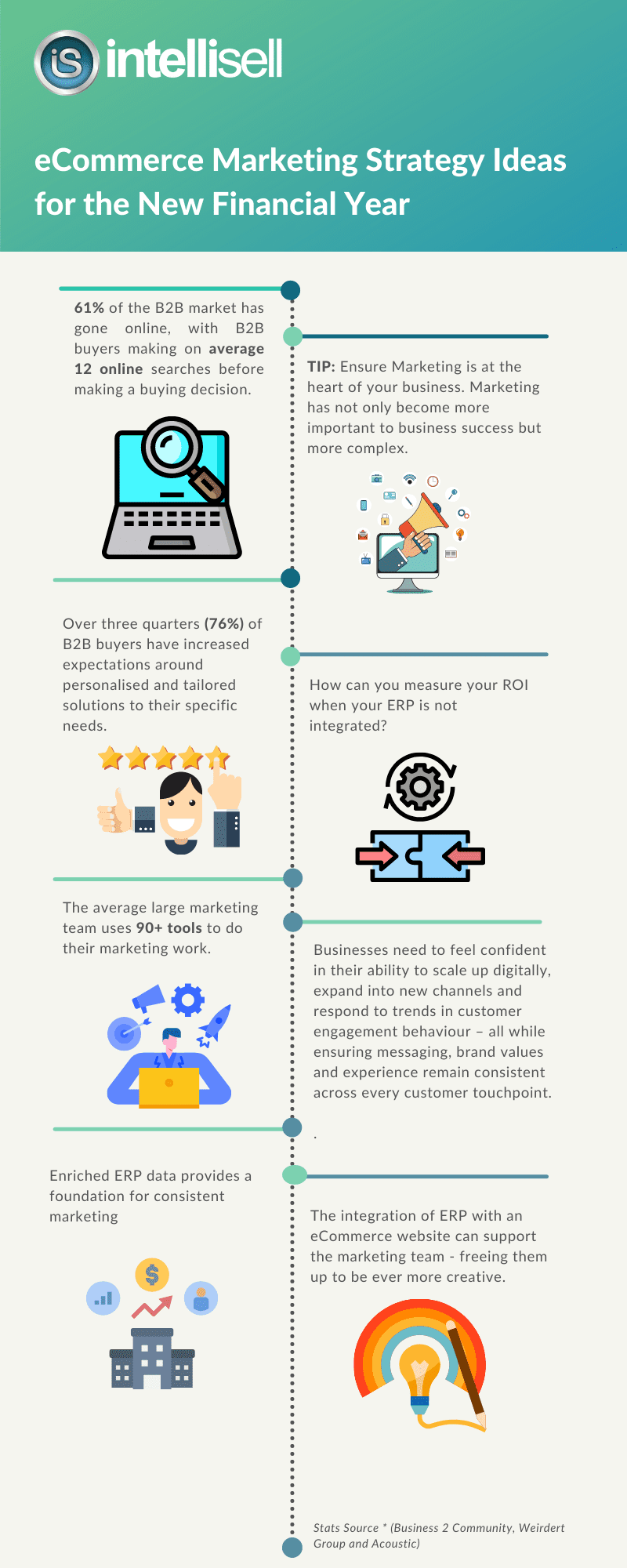 Explosion in marketing technology
According to one martech company, Acoustic , the average large marketing team uses 90+ tools to do their marketing work, and rarely do they speak with each other. Nor are these tools integrated with the core business data, namely Enterprise Resource Planning (ERP) systems. This leads not only to isolated marketing activities and a high risk of inconsistency but also an inability to accurately measure what the overall return on investment (ROI) has on the online strategy.
Just consider the implications on the business if marketing is compelled to operate without a foundation of accurate, up to date product data:
Engagement channels are disconnected. Customers will choose multiple ways of interacting with a brand – social media and multiple marketplaces. And handled by different people and martech solutions. So, where is the single source of all imagery and content? Integrating an eCommerce website with ERP provides an opportunity to enrich trusted product data, with the added benefits of solutions such as Product Information (PIM) and Digital Asset management (DAM) to support the marketing team.
2. Brand value can be compromised. Product categorisation and description styles are marketplace specific and likely to be different to the corporate website style. When a company is considering tens, hundreds, even thousands of SKUs, the burden on the marketing team to manage the ever-increasing range of digital assets, to get every single image and description correct and consistent across every channel can be overwhelming.
3. Sales opportunities are lost. How do you ensure every interaction is valued across multiple channels? Ensuring the right people are engaging with prospects at the optimal conversion opportunity can transform sales – and businesses have fine-tuned their approach over the years. Every interaction could become a transaction – if the business handled it correctly. Accurate reporting based on good clean data is vital.
ERP provides a trusted data foundation
Investing in systems and solutions that help to automate the marketing process will free up the team to focus on their marketing expertise, creativity, and flair, rather than wrestling spreadsheets and wrangling statistics.
If you are keen to learn more and talk with an Intellisell expert on this subject matter, you can connect with Richard Nash, Intellisell's Product Manager on Linkedin, or contact the team below.