We are in a post-pandemic society, where consumers are in charge of 'when' but also 'how' they shop, so what does the priority look like for the year ahead?
Consumers want a consistent product experience, you need to fully integrate your online presence but also how you display your products and how you adapt your channel strategy will differentiate your success as a business.
Richard Nash, Intellisell's product manager, explores the Top 6 trends driving eCommerce in the new year and how they'll impact businesses everywhere.
1. Omnichannel presence
Offline and online, from search to social commerce, bricks, and mortar shops, and marketplaces – each channel may have a different audience.
The biggest ecommerce trend for 2023 is expected to be the combination of various channels to design a seamless online shopping experience.
Brands that can make the most of omnichannel retail will be able to grow their number of online shoppers, offer a superior shopping experience for customers and tie this in with their brick-and-mortar offerings.
Richard comments, 'it's important to plan a 'digital first' strategy which will define your product, brand, and online store'. You must focus on delivering a consistent shopping experience irrespective of the channel preferred by the customer'.
Look at your omnichannel strategy. How you can understand what customers are looking for? And how can you deliver a personalised experience across all platforms? To find out more, view our marketing for integration page. 
2. Business Intelligence
The shift towards eCommerce has dominated the business model and has further underlined the essential need for trusted, high-quality data – data that can be both easily understood and effectively used.
Data confidence ensures new eCommerce channels are weighed up and explored intelligently; while the use of data to support automation ensures the C-suite can focus on exception management, prioritising the most urgent and valuable areas of business development.
3. Social and mobile commerce
The growth of online shopping and social media as part of the shopping experience means that there are more opportunities for online brands to reach new customers and use data to meet their consumers' preferences.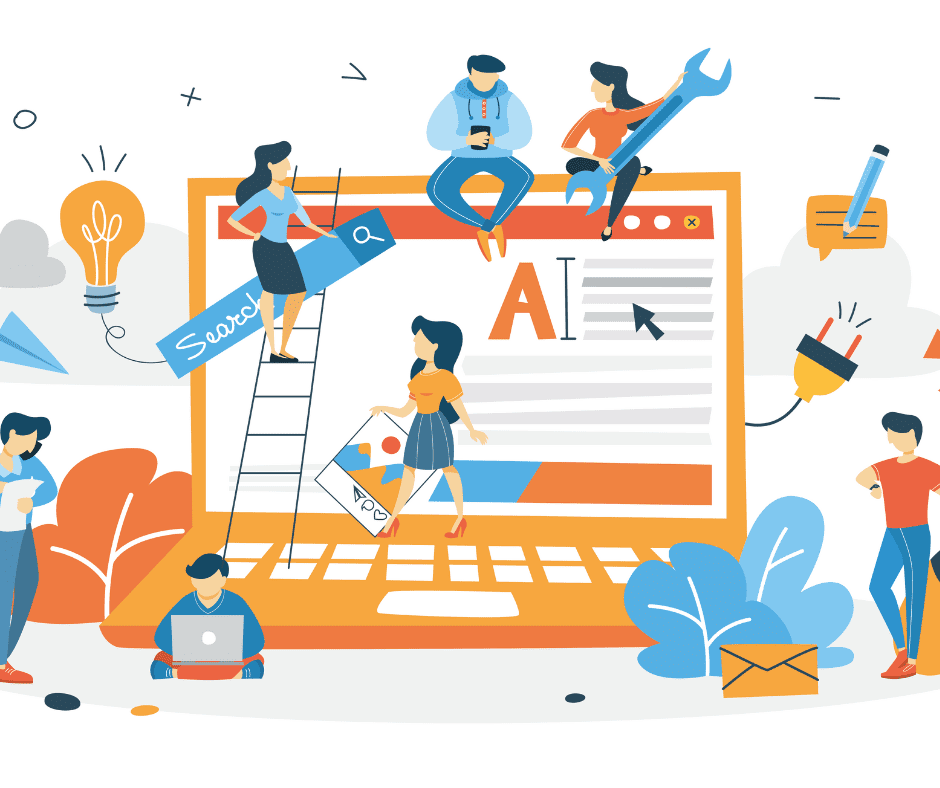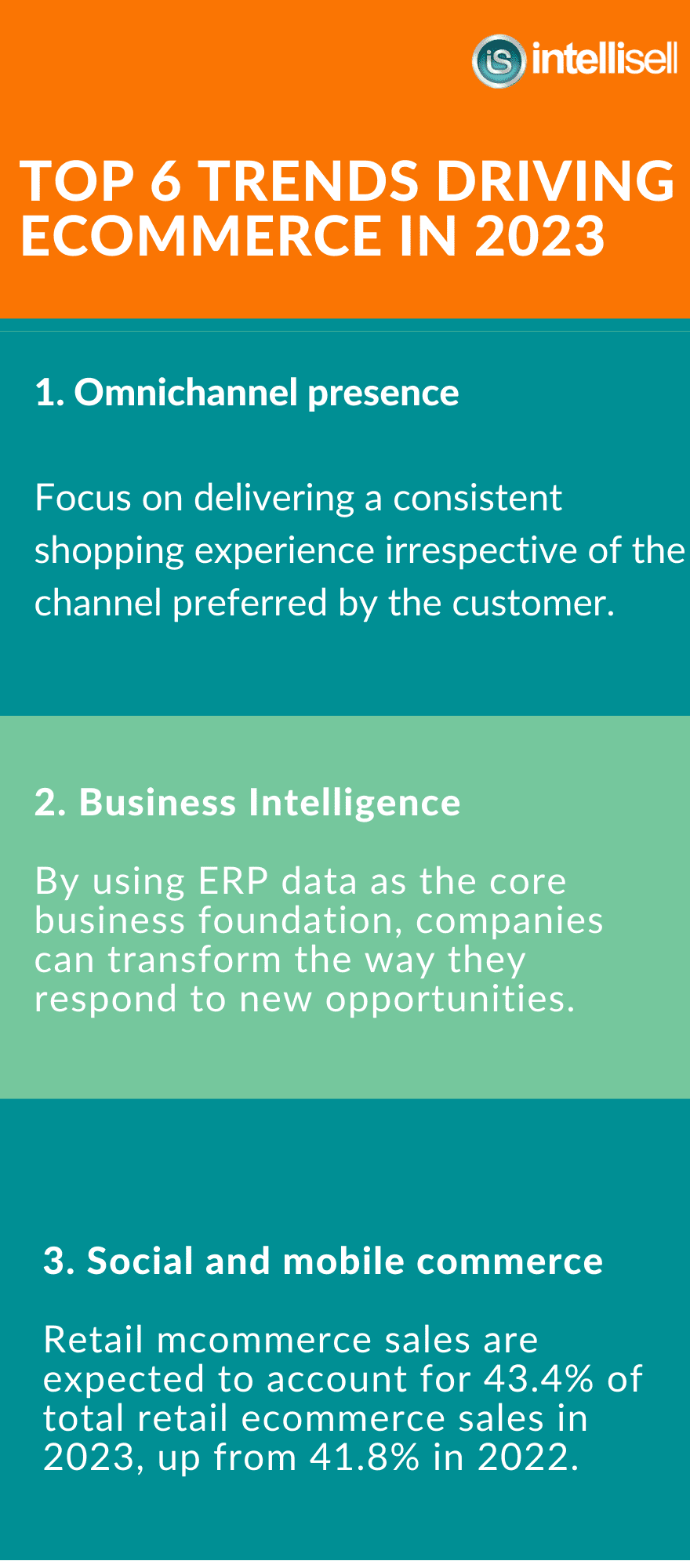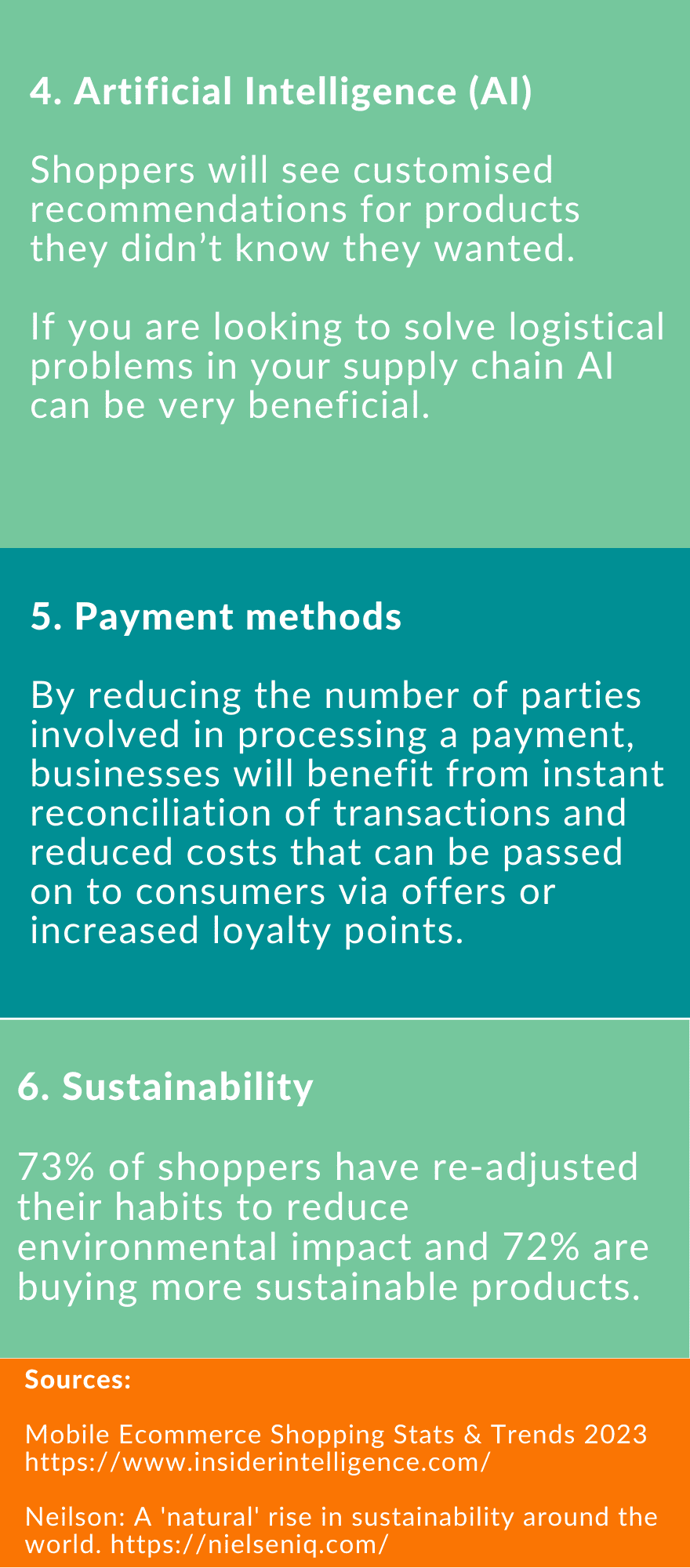 Customers now want to buy without having to leave their social media app or platform, making it easier than ever to turn a 'want to buy' into a purchase.
Trust is key
Customer service is also important to ensure that the consumer trusts the company to make a purchase. Companies need to make the effort to build trust and brands need to ensure that they send order confirmations, display reviews from their customers, keep customers updated on their orders and offer easy returns.
4. Artificial Intelligence (AI)
In 2023, we expect to see more optimised, personalised ecommerce experiences for consumers and algorithmically-managed supply chains for retailers.
With the rise of Chatbots, powered by AI, shoppers will see customised recommendations for products they didn't know they wanted.
Richard comments: "Direct-to-Consumer is growing fast – even before the pandemic, D2C brands had captured significant share across categories — 20% in mattresses, 15% in shoes, and 12% in razors – and 40% of consumers expect D2C brands will comprise four out of ten of their purchases by 2024." View our Sage eCommerce for Distributors page to find out more.
AI can also be leveraged throughout the supply chain and production process. If you are looking to analyse huge amounts of data and make intelligent decisions – AI can help.
If you are looking to solve logistical problems in your supply chain AI can be very beneficial. Richard says 'it can be valuable to add services such as 'Live Chat' to websites. A switched-on customer services team, able to respond immediately to customer questions, can provide a significant boost to conversion rates'.
5. Payment methods
Joining payment super apps in making a breakthrough in 2023 will be alternative payment methods.
Apple Pay is just one example of a digital wallet that aims to replace your physical money. It enables bank-to-bank transfers between consumers and retailers, which do not require a credit or debit card.
The increase of super apps

Making it easier to provide multiple ways for consumers to pay whether in-store or online, payment super apps will become a key touchpoint. With the rise of mobile, crypto, Buy now pay later (BNPL) and even newer payment methods will be available to customers through a single app.
With retailers able to white label solutions and launch their super apps, they will provide invaluable data into customer behaviours and preferences that can be used to further enhance the customer experience.
By reducing the number of parties involved in processing a payment, businesses will benefit from instant reconciliation of transactions and reduced costs that can be passed on to consumers via offers or increased loyalty points.
6. Sustainability
The pressure is mounting on retailers to introduce sustainability at every stage of their business and operations.
According to Nielsen, 73% of shoppers have readjusted their habits to reduce environmental impact and 72% are buying more sustainable products.
It's important to note that shoppers expect honest sustainability, so it's key to explain how you are making a difference and the benefits that this brings.
Look at all of your supply chains, where you source materials and ask questions to your manufacturers, as well as the proof that they are sustainable.
With the help of PIM you can create a more orderly catalogue of your workflows and automate the processes of reviewing and connecting product data. Which all helps you to increase efficiency and reduce wasted time and resources.
In conclusion
Richard explains that to achieve success, you can look at the above trends, however, it is still imperative to focus on quality product information that fits your target audience and their needs.
Looking at how you can optimise and create a mirror view of your catalogue will help you to transform your product data online across multiple marketplaces and channels. In addition, many ecommerce platforms offer plugins aimed at sustainable practices which improve this aspect of business and also help to bring about trust in customers concerned with sustainability.
When you are developing your 2023 eCommerce strategy remember to focus also on providing a customer-centric experience. Where your customers can enjoy a tailored commerce journey and find recommendations that suit them on each site.
How can Intellisell help?
The Intellisell eCommerce trade portal for Sage can help you with the tools to improve your overall customer's online buying experience. It is simple to use and can be easily customised with your unique branding and business practices.
Building the right solutions to support an effective eCommerce business is not plug and play for most businesses today – but it could be, if companies take the right approach.
Businesses have relied on ERP solutions for decades to provide the foundation for manufacturing, distribution, accounting – as eCommerce transitions from an add-on to core business model, ERP remains that operational cornerstone.
Contact us today to find out more.