The pandemic has compelled many businesses to make extraordinary changes to their business model. One of the most significant has been to reconsider the supply chain and, where possible, cut out the middleman. Direct-to-Consumer (D2C) and Manufacturer-to-Consumer (M2C) were already growing trends – but over the past year increasing numbers of B2B companies have started to explore bypassing the wholesale route and reaching out directly to customers for some or all of the product line via a raft of eCommerce channels.
This is a very different business model. From fulfilment at individual stock item level to customer engagement and experience, Intellisell's Richard Nash discusses the processes that companies need to get right to maximise the D2C business opportunity.
Growing Trend
Over the past decade the accessibility of eCommerce platforms and technologies has created new routes to market for traditionally B2B – only operations – but, for many, it took the market upheaval of a global pandemic to actively explore the possibilities.
The COVID-19 pandemic has not only introduced a new customer base to online purchasing but also expanded the type of products that people now will buy remotely. Furniture, electrical goods, even cars are now routinely purchased without a traditional face-to-face retail experience.
With almost 70% of global internet users aged 16 to 64 using shopping apps every month, according to the Digital 2021 – Global Overview Report, the direct to consumer model has potential for an ever-expanding range of traditionally B2B companies."
Direct-to-Consumer is growing fast – even before the pandemic, D2C brands had captured significant share across categories. 20% in mattresses, 15% in shoes, and 12% in razors – and 40% of consumers expect D2C brands will comprise four out of ten of their purchases by 2024.
Amazon owns over 100 private label brands that operate in dozens of markets on its site, including food and beverage, automotive, clothing, and electronics.
According to eMarketer, in the US alone, D2C sales grew 45.5% from 2019 to 2020 and are expected to grow another 15.9% in 2021, reaching $175 billion by 2023.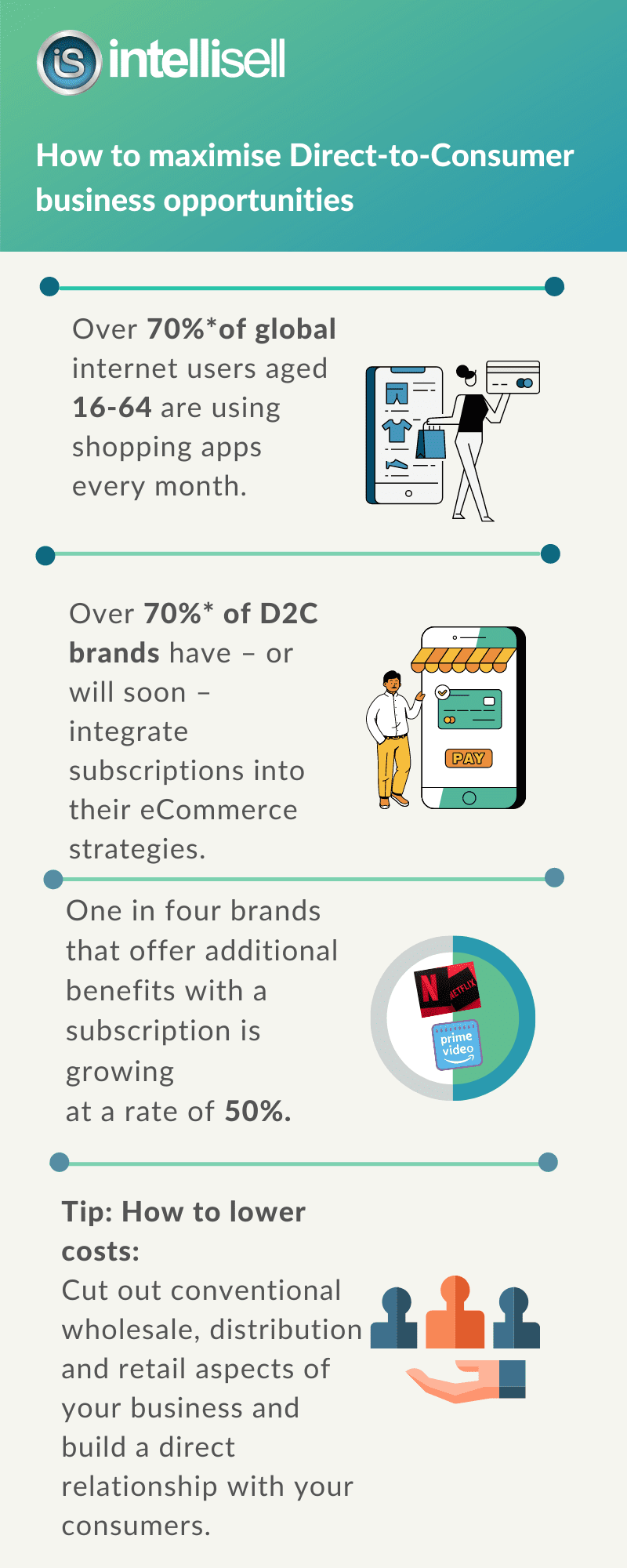 Understanding D2C Fulfilment
From an operational perspective, the biggest implication is the move from shifting pallets of stock to picking and packing individual items. Every aspect of the fulfilment process has to be reconsidered. Can the warehouse management system adapt to individual items? How are products going to be picked and packed with the required speed and accuracy? Can existing logistics partners provide a consumer-focused service or will new business relationships be required?
For most companies, the best plan is to start small – try out a small niche of the product set, for example via Amazon or eBay or a small Shopify or WooCommerce store and assess. This evaluation will encompass both customer response to the chosen products – which could be the top-selling range or old stock that needs to be shifted – as well as each step in the fulfilment process.
This is where accurate, integrated data with live reporting is invaluable. It can provide immediate feedback into consumer demand for products, as well as insight into potential changes required to optimise the fulfilment model. Integrating ERP with a dedicated eCommerce website can offer a company with a dashboard view of operations, delivering affordable, cloud-based, immediate information to everyone that needs it across the business.
Manage Customer Expectations
Consumers often have different expectations to business customers. The sales cycle is often shorter, which means adding services such as 'Live Chat' to websites can transform conversion rates by ensuring the informed customer service team can quickly respond to customer questions about a product.
Furthermore, consumers also have different ways of buying – for example relying heavily on social media platforms for information about both products and brands. They also have high expectations about the look and feel of product information – from the description to the imagery – which means the marketing team needs access to the right information and resources.
After-sale service is important irrespective of whether a customer is a business or a consumer – but consumers tend to demand a more hands-on approach. Either way, given the increasing importance of reviews in buying decisions, every business needs to deliver a great end-to-end experience, including fast, efficient response to post-sale problems.
Increase Regular Income 
D2C is also introducing new ways to interact with customers – including the increasingly popular subscription model. According to Bold Commerce's Subscription Trends 2021, report over 70% of D2C brands has– or will soon – integrate subscriptions into their eCommerce strategies. Furthermore, over half (54%) of respondents claim subscriptions account for 20% or more of their overall sales.
Amazon Prime and Netflix are the stand out subscription brands, but this model works well for consumable items – such as food and drink, as well as cosmetics. For brands, subscription is a fantastic way to smooth out the peaks and troughs in demand and create a guaranteed, repeatable revenue stream. For consumers, subscription is not just about convenience but also membership and feeling part of a brand.
According to the Bold report, one in four brands that offer additional benefits with a subscription are growing at a rate of 50% or more, month on month. M2C companies may not have considered subscription but this model adds predictability to demand, helping manufacturers have more confidence in materials management and investment.
Even if subscription isn't an approach that will resonate with a specific customer base or product set, companies should still explore the power of automating repeat ordering. For example, by offering to populate the basket with frequently ordered products each week or month. Allowing customers to quickly confirm and/or simply change quantities makes the purchase process incredibly easy and encourages repeat and regular purchases.
Alternatively, customers can be invited to spread payments through regular monthly contributions – something that works well for annual product service costs, for example. It's all about improving the customer experience while generating more regular, guaranteed monthly income – an approach that can resonate powerfully with B2B as well as D2C markets.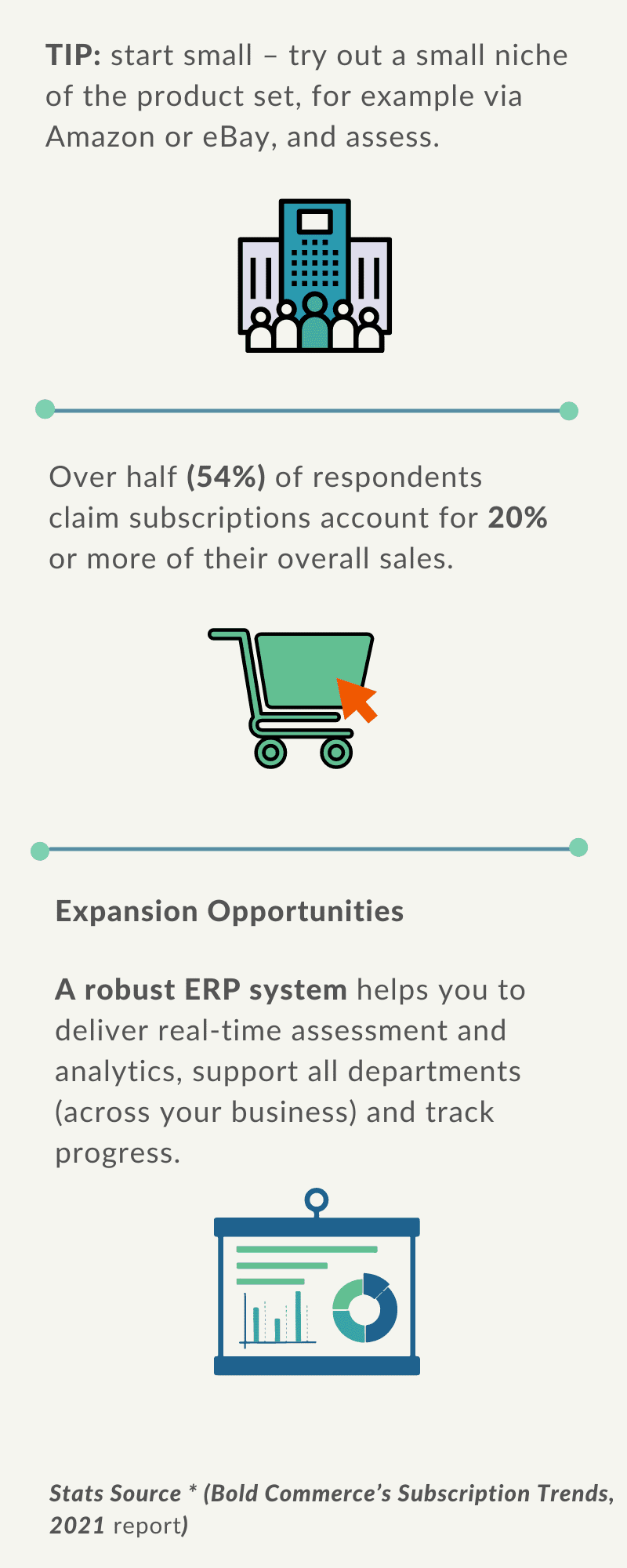 Conclusion
Cutting out the conventional wholesale, distribution and retail aspects of business can cut costs significantly and provide companies with a chance to build a direct relationship with consumers for the first time. An ever-increasing number of online marketplaces offer global reach and the chance to scale up the business incredibly quickly. But companies need to get this model right. Consumers have little patience for glitches in the process – which means everything must be perfect, from accurate product descriptions to on-time delivery and informed customer services.
A robust ERP system with an integrated eCommerce platform is a foundation for any 'to consumer' expansion. It provides the accurate information and integration to dedicated solutions required to support marketing, warehousing, and customer services. Critically, it delivers the real-time assessment and analytics businesses need to track progress and quickly identify expansion opportunities.
Find out more
If you are keen to learn more and talk with an Intellisell expert on this subject matter, you can connect with Richard Nash, Intellisell's Product Manager on Linkedin, or contact the team below.